Voluspa was founded twenty years ago in sunny California, when Traci and Troy Arntsen decided to create a luxurious home accessory, the practical use of which will not be left only by the burning flame of a candle. Each candle is poured by hand in the United States using a patented coconut wax and a natural, clean-burning wick. With an emphasis on sustainability, they do not contain phthalates, parabens or sulphates, are not tested on animals and meet all standards while maintaining the highest quality.
After burning the candle, you can simply remove the excess wax and use the beautiful appearance of the container as an extraordinary accessory. It will serve its purpose as a vase or flowerpot for your flowers, as a holder for pencils or makeup brushes and, last but not least, for the safe storage of jewelry. The design of the candles is designed to fit into the country interior with its warm tones, it stands out in its minimalist style with its elegant colors and it looks just as good in the industrial interior, to which it adds a touch of coziness.
For each of the collections, there are several exclusive fragrances to choose from, which are hidden in different sizes and types of containers with different numbers of wicks or in elegant reed diffusers. You can enjoy your favorite scent from 10 to 250 hours.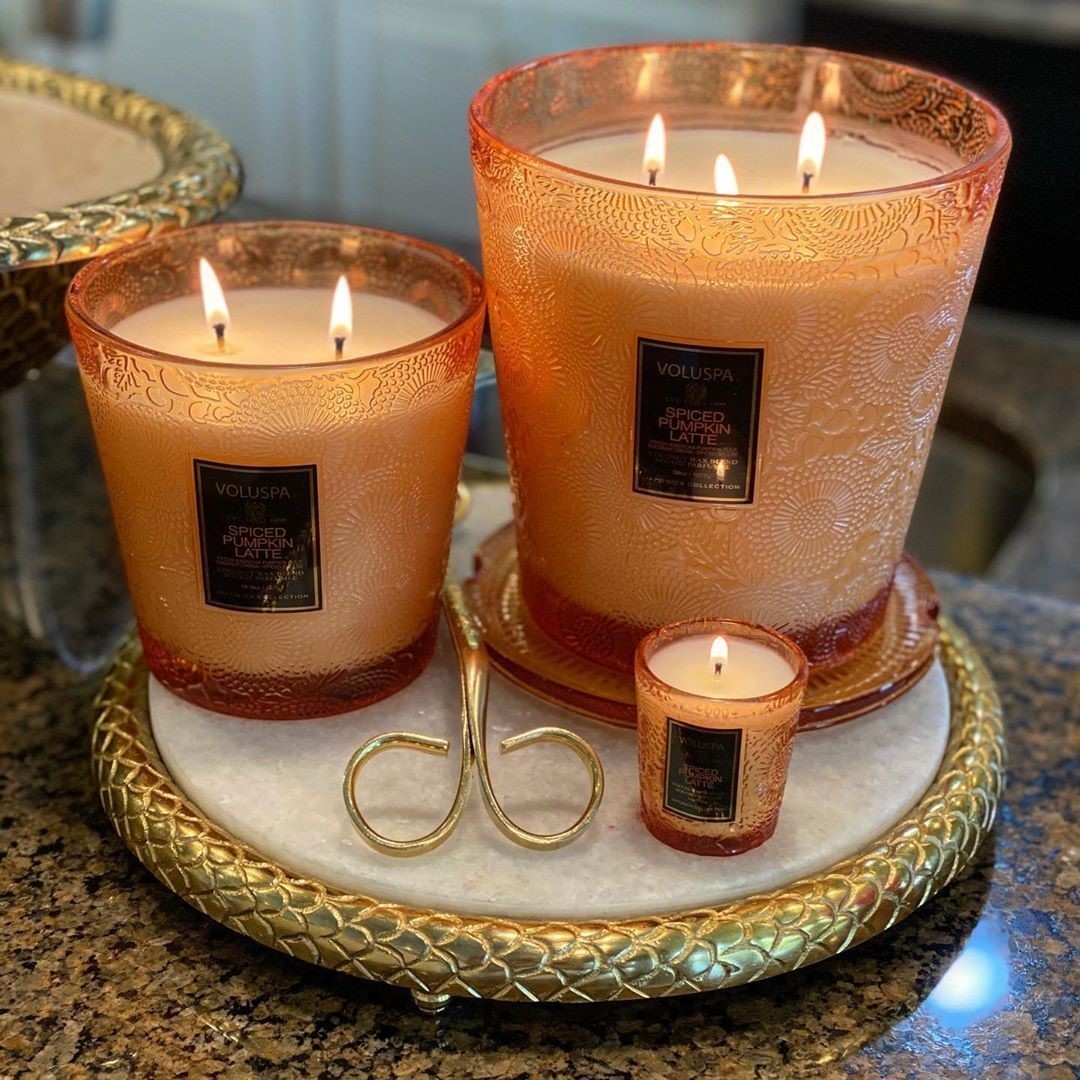 Japonica
The collection is characterized by its precisely processed details with demanding Japanese inspiration. The classic design of Voluspa candles in this case is made special by the fine embossing of glass candles and the unusual pattern of candles in tin cans and diffusers. In the Japonica collection, you will find fresh fruit tones, for example in the Santiago Hucklebera candle, mysterious wood tones in Moso Bamboo or a delicious combination of two traditional tones in Santal Vanille.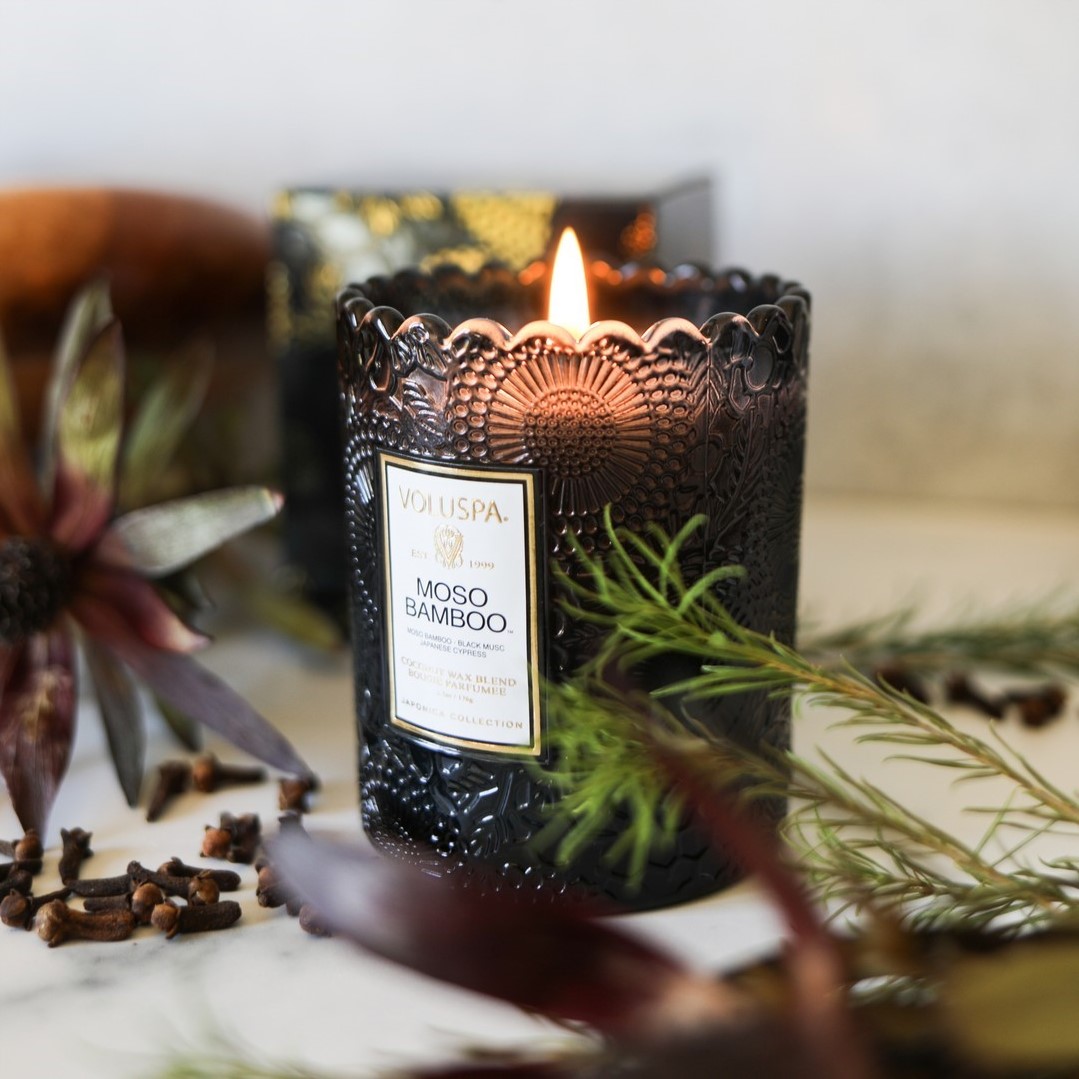 Vermeil
A timeless collection based on the design of the 1920s. Discover the charm of a modern version of glamor candles with which you will add dazzling elegance to the interior and, above all, a sensual scent. The popular Makasar Ebony & Peach from the Vermeil collection hides tones of black ebony wood, ripe peaches and apple blossom. For lovers of warm scents there is Blond Tabac scent.
Maison Blanc
Surround yourself with the cheerful candle patterns provided by the Maison Blanc collection. The rich colors on the decorative container, from which the luxurious scent emerges after ignition, are the perfect recipe for arranging in your interior. Our favorite is Saijo Persimmon, the scent of fresh fruit that glows every day.
Maison Noir
The beauty of Maison Noir lies in the mysterious colors of the containers, which you can use again after burning a candle, as an elegant household accessory with a wide range of uses. Whether for storing small items or as a flower pot, Maison Noir will make you happy for a long time. The spicy Ambre Lumiere can thus become your favorite fragrance, which you will always like to remember.
Roses
The delicate tones of roses are an essential element of the collection dedicated to all lovers of floral scents. Beautiful jars with a classic 3D geometric pattern or rose pattern refer to the type of rose that was used in a given candle.
Seasonal
Limited editions of candles, the scent of which is synonymous with relaxation during the long autumn and winter evenings. The scent of mint and butter biscuits, reminiscent of the most beautiful holidays of the year in the Crushed Candy Cane candle, or orange, anise and cloves in Spiced Goji Tarocco Orange, is especially popular .
Whether as a gift for a loved one or a luxury accessory for your home, Voluspa offers a rich selection of scents and sizes from which you can come to choose in our showroom in Bratislava, or you can easily order them through our website.
Products in article
Candles
VOLUSPA
VL72818
Notes of Goji Berry, Ripe Mango, Tarocco Orange, Anise, Clove & Cinnamon.
Candles
VOLUSPA
VL72819
Notes of White Cypress, Juniper Berry, Mint Leaves and Evergreen Wood.